The Promise
"And the Lord said, I have pardoned according to your word.
But truly as I live and as all the earth shall be filled with the glory of the Lord,
Because all those men who have seen My glory and My [miraculous] signs which I performed in Egypt and in the wilderness, yet have tested and proved Me these ten times and have not heeded My voice,
Surely they shall not see the land which I swore to give to their fathers; nor shall any who provoked (spurned, despised) Me see it.
But My servant Caleb, because he has a different spirit and has followed Me fully, I will bring into the land into which he went, and his descendants shall possess it. "
Numbers 14:20-24, Amplified Bible.
Do you admire the stories of the people who live long, healthy lives? Like the people 80 to 100 plus years old? I LOVE those interviews. I love to hear how they did it!
Many of us have heard multiple times the story of the twelve spies. We know that of the twelve spies, sent into the Promised Land, only two men believed God for the ability He had to deliver on His promise. It is so easy to judge those who did not believe our Mighty Father.
Yet, if we are honest with ourselves, we all do this on a regular basis.
I believe most of our faith failures begin when we look at the circumstances, rather than looking at our God. I should know - I am Queen of "Looking at My Circumstances Land". ;-)
What should we look at?
Isaiah 26 tells us that He is able to keep us in perfect peace whose mind is staid on Him. Colossians tells us to keep our mind on heavenly things.
What's the Secret?
We all "get" that many did not, could not believe God for His ability to deliver on His Word.
What we really want is to know the secret of Caleb's ability not only to believe, but to obtain the promise and Finish Strong!
Because, finish strong is exactly what Caleb did. Above, we see God's promise to him. Now let's see Caleb on the follow through, that's the part we want to follow closely, because that's what we have to do!
Follow Through on the Promise!
"Then the people of Judah came to Joshua in Gilgal, and Caleb son of Jephunneh the Kenizzite said to him, "You know what the Lord said to Moses the man of God concerning me and you in Kadesh-barnea.
Forty years old was I when Moses the servant of the Lord sent me from Kadesh-barnea to scout out the land. And I brought him a report as it was in my heart.
But my brethren who went up with me made the hearts of the people melt; yet I wholly followed the Lord my God.
And Moses swore on that day, Surely the land on which your feet have walked shall be an inheritance to you and your children always, because you have wholly followed the Lord my God.
And now, behold, the Lord has kept me alive, as He said, these forty-five years since the Lord spoke this word to Moses, while the Israelites wandered in the wilderness; and now, behold, I am this day eighty-five years old.
Yet I am as strong today as I was the day Moses sent me; as my strength was then, so is my strength now for war and to go out and to come in.
So now give me this hill country of which the Lord spoke that day. For you heard then how the [giantlike] Anakim were there and that the cities were great and fortified; if the Lord will be with me, I shall drive them out just as the Lord said. "
Then Joshua blessed him and gave Hebron to Caleb son of Jephunneh for an inheritance.
So Hebron became the inheritance of Caleb son of Jephunneh the Kenizzite to this day, because he wholly followed the Lord, the God of Israel.
The name of Hebron before was Kiriath-arba [city of Arba]. This Arba was the greatest of the Anakim. And the land had rest from war." Joshua 14:6-15, Amplified Bible.
Phew! Back in February, the Lord impressed me with this message for our 50+ group at Family Worship Center. They are a wonderful and diverse group of people, whom I dearly love. They go by the name of Prime Timers.
It wasn't until the summer that we could actually connect to do this talk. As I read over those scriptures just now...I get so thrilled all over again. There is so much good stuff here.
As we focus on Caleb and how he pursued and believed in the promise of God for His life, and for the lives of his children, we see so much to inspire us.
He modeled something that is ours, everyone of us, by the promise of God. We just don't all know, understand or believe in it. It's the ability to pass on a rich inheritance for our children. And I don't mean just money or real estate. Follow through is essential. We want to learn to follow through! We want to obtain the promises of God,
we want to finish strong!





Paul said of himself, he had fought the good fight of faith, he had finished his course
. There is a satisfaction that comes to our hearts when we have completed a task. We all want to know that we have obtained the full promise of God, not just for ourselves, but for those that come
after
us.
So, how was Caleb able to live long, and strong, take territory, fight off and kill giants, and successfully turn that over to his children for them to occupy?
Obtaining the Promise
Joshua 15:14-17 (and also in Judges 1)
"And Caleb drove from there the three sons of Anak--

Sheshai and Ahiman and Talmai--the descendants of Anak.
He went up from there against the people of Debir. Debir was formerly named Kiriath-sepher.
Caleb said, "He who smites Kiriath-sepher and takes it, to him will I give Achsah my daughter as wife. "

And Othniel son of Kenaz, Caleb's brother, took it; and he gave him Achsah his daughter as wife

."
Looking Out For Future Generations
You gotta love this guy! Caleb not only gets his territory cleared, executes the enemy, he also, in wisdom, holds back a portion to contract it out. I do not believe it was because he was too tired to do it. No, he had successfully gotten rid of three giants. I think he was completely up to it. But, by the wisdom of the Lord, he wanted to know his daughter was well married. He wanted to know,
that when he was no longer here to look out for her,
she was married to a man who could fight like him, because to fight like him meant that person would have the faith in God that comes from knowing Him.

That was a kind of man that could be trusted with his daughter.
So, it was not that he thought of his daughter as something to give away as a prize.
Rather, the man who could fight like Caleb and win,
could be trusted with his precious daughter.
It turns out that Caleb was indeed correct to trust his daughter to the man who fought and won. He became the first Judge of Israel after Joshua.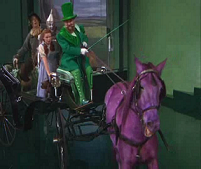 A Horse of a Different Color!

So what separated Caleb from the pack? What made him so special? What quality did he have, that we should pray and seek God for in ourselves?
The beginning of the answer as I see it in the Word of God, is the scripture in Numbers 14:24. The Lord said unto Moses
"But my servant Caleb, because he had another spirit with him, and hath followed me fully, him will I bring into the land whereunto he went; and his seed shall possess it."
Caleb followed fully after God

, "

he had another spirit with him

" in words we are famliar with today - he had the right heart attitude! One that looked to God and believed what He says. THAT is what God needs to be able to work in us!
We limit Him, He does NOT limit us!
God recognized that Caleb did not submit to the same fearful, lying spirit
the 10 other spies had submitted to.
Rather Caleb submitted to the Holy Spirit of God, who was able to remind him of all the Lord had already done (note the Lord's own words in vs 23, when He is describing the 10 who did not believe, that they had seen His glory and His miracles, yet, did not believe), and showed Caleb to believe, that work God has begun, He will be faithful to complete.
You could say Caleb was a horse of another color!


Let's Talk About the Power of Influence!

Picture this: For 40 years Caleb is in the dismal desert, watching the people who believed the evil report die.
How sad, how dreary and unnecessarily tragic that would be.
How tempting it would be for the dying generation's mentality to corrupt Joshua's & Caleb's mentality during that 40 years.
What about us? In a similar fashion, we all love and are connected to people who do not live by faith, and have a mentality that can compromise ours. You know Caleb (and Joshua) had to hear some trash talking. And it would have had to include his extended family members.
It is really hard to stand against that trash talking relative, friend, co-worker.
It is hard to not doubt, and not grow weary.
But, when we can be single-minded, and keep our eyes on the Promise Maker, and the Promise Keeper, we can choose to smile at their misguided beliefs. We can even have compassion on them, without compromising and joining them.
Instead of drying up in his spirit and then his body, Caleb stayed strong, valiant and healthy, because his focus was right. He was in the desert, but the desert was not in him.
He was already halfway in the Promised Land! His body had to go just to keep up with his mind & his spirit!
He knew he had giants to kill, and he expected to be killing them, he expected to be occupying and turning over territory to his seed.
Just like God promised.
Caleb & Joshua Influenced the New Generation! For him to stay strong, he had to keep speaking the promise of God. His speaking and Joshua's speaking was what the new generation, the one which would go with them into the Promised Land were raised up and trained on. The generation which was promised entrance into the Promised Land, had to know their God. Know that He was and is a Mighty God, a God of great exploits, and to expect Him to move mightily both through and for them as they moved into the Promised Land. There had to be an expectancy for them to be sent, finally into the Promised Land, and to do battle and to destroy the enemy. Think about it, the generation would not have been equipped to go into the Promised Land, if they had not been trained to know their God. They had to know Him, and expect Him. The desert mentality could not seep into their consciousness or they would not be fit for the task. So part of Caleb's job was to pass on the enthusiasm for His God and this wonderful land. (make known His deeds among the people, His exploits in the land). There had to be a looking forward to the battle mindset, so they would not faint. Only a passionate people would be able to sustain the battle. They had to be able to SEE the victory. That was a big part of Caleb's job. And clearly he was successful. His training of the younger generation, kept him strong, it kept him focused. It helped him to tune out the dreary and tragic circumstances, and let the promises of God be more true and bigger on the inside of him. Proverbs tells us that the Word of God is health to our insides and strength to our bones. The opposite is in Prov 17 – a broken spirit dries up the bones. So, if we cling to God, bind ourself to His Word, our spirit stays strong, our vision true and clear, this impacts our spiritual and physical well-being.
QUESTION:
We have to ask ourselves "Am I under the Influence? Or Am I Being the Influence?
***
As I write these words today, Thursday, December 14th, 2007, I am struck with the strong impression that the answer better be that I am being the influence, BE the Salt and the Light, to whom much has been given, much is required. God is not pleased with those who shrink back, He desires us to share and be willing to trust in Him for GREATNESS
!***

Boundaries
Proverbs tells us also, that we are not to move the boarder stones our fathers place
to mark our territory.
We must ask ourselves, what kind of boundary have we been diligent to set for our children and grandchildren to follow?
Consider. Maybe really good and righteous in some areas, and not so good in others? That's how it is in my house! We diligently try day by day, some days we seem to fall so short, others, we feel glad for the progreee we have made! But we don't let a day go by that we don't pray, seek and do the best we know to do. We can't afford to waste a day! A day is a precious thing.
Let the Lord illuminate this for you and work with Him to move and redeem whatever needs His grace in this regard.
And I ask you, I come to encourage you to not be weary in well doing.
Do not be deceived by the circumstances of this world.
Remember the Kingdom of God is righteousness, peace and joy in the Holy Ghost, and we can have that and pass that on in all circumstances. We take that and we occupy those situations and territories and families that He has given us to cultivate and occupy in His Name

DON'T LET TODAYS MORAL DECLINE MAKE YOU CHANGE THE STANDARDS FOR YOUR FAMILY!
Stick with what the Word and your heart tells you!

The Inheritance of PEACE! PEACE for our children - PEACE for our grandchildren
.
Caleb was faithful in those 40 years in the desert.
He kept his focus and maintained his walk with God, he lived in a state of expectancy of the goodness, power and faithfulness of God. He trained the next generation.
And then, at the appointed time, he made a stand on the promise of God, reminded God of His promise and went to claim that territory.
Remember that in vs 25, the scriptures make a point of stating that the land promised was occupied by giants and other enemies. God promised him the land, at a given time, and with the understanding that he would have to fight for it. It would not just be Caleb transported by the Spirit of God into the land and viola, the enemy is vanished. No, Caleb would have to fight, he would have to vanquish the enemy. And he did this! Joshua 14:15 tells us that after Caleb took the land and called it Hebron, "the land had rest from war". There is a peace that comes when we push out and destroy the enemy from the promised territory for our family.
There is a peace that can be the legacy we pass on to the next generation.
Think of it, the colonists fought the fight to banish England from the US. The next generation did not have taxation without representation! World War II, that wonderful generation set us free from a type of oppression Baby Boomers did not have to face again.




We won't see peace on Earth in this current age. But, sons and daughter of the God Who Reigns, we can seek Him, learn of Him, be changed by Him and pass on a peace filled legacy of righteousness, peace and joy in the Holy Ghost!




WHAT WILL BE OUR LEGACY? What is the promise God has put inside of us? Are we keeping our focus on that promise and on our God, His might, His goodness, mercy and faithfulness? What is the territory He has given us to take and to tend?

We know that never before have the generations been so deeply divided. I don't need to tell you, your hearts already break for division between families and generations.
We must ask ourselves why? Because the stakes are high.
We cannot afford to be intimidated by the giants of promiscuity, divorce, drug and alcohol abuse, of pornography, apathy, disrespect.
We can not afford to be intimidated by the electronic and technological nature of the way our seed is inclined. We must occupy, we must fight, we must love, we must NOT give up, we WILL win, we WILL occupy, we WILL pass on peace, peace that passes understanding.

OUR LEGACY MUST BE VICTORY, RIGHTEOUSNESS, PEACE, JOY it is the desire and nature of God to see and to cause the succeeding generations to increase, one after the other. Look, from Adam to Seth, from Abraham, to Isaac, to Jacob. From Elijah to Elisha. David to Solomon. From Paul to Timothy.

If there is breath in our bodies there is time to make in impact. Don't sell short the power of prayer. Ask God for the opportunities everyday to occupy more territory and pass it on to your family!
Fix your eyes on the prize & run! Caleb's was a mountaintanous area. Look at that mountain in your life and go get it! Take out the enemy! We have the power in the Name of Jesus! :)